| 診療時間 | 月 | 火 | 水 | 木 | 金 | 土 | 日・祝 |
| --- | --- | --- | --- | --- | --- | --- | --- |
| 09:30~12:30 | ● | ● | 休 | ● | ● | ● | 休 |
| 16:00~19:00 | ● | ● | 休 | ● | ● | 休 | 休 |
診療時間
月
火
水
木
金
土
日・祝
09:30
~12:30

●

●

休

●

●

●

休
16:00
~19:00

●

●

休

●

●

休
休
〒657-0846
兵庫県神戸市灘区岩屋北町7-1-30
ラ・メルベーユビル2F
※JR「灘駅」から徒歩1分、阪神「岩屋駅」から徒歩3分
神戸大学医学部 卒業
神戸大学医学部大学院 修了
神鋼病院産婦人科 部長
川口レディースクリニック開設(2001年)
医学博士
日本産婦人科学会専門医
母体保護法指定医
日本東洋医学会専門医
日本臨床細胞学会専門医
日本性感染症学会認定医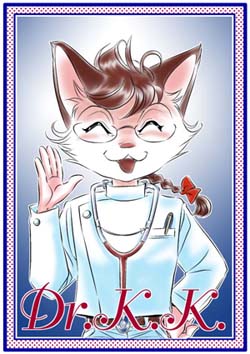 川口レディースクリニックのホームページをご覧いただき、ありがとうございます。当クリニックは、大病院ではできない医療をみなさまにご提供することをコンセプトに開設し、思春期の子供からご年配の方まで幅広いお悩みに対応できるようにしています。
私が医師になった時、ある先輩医師から言われた言葉があります。それは、「もし患者さまが自分の母親や姉妹や娘だったら、どのような治療をするか。それを考えて診察しなさい」という内容。この言葉は今でも大切にしており、自分や家族にも行いたい診療をご提供しております。
診察室は無機質なオフィス家具ではなく、家のようなデザインのテーブルや棚を配置して、できるだけリラックスしていただけるようにしています。また、受付、看護師、検査技師など、スタッフ一同明るく接し、居心地の良い院内の雰囲気づくりを心掛けています。
女性のお悩みをお持ちの方は、一人で悩まずにぜひ私たちにご相談ください。
みなさまのご来院を、お待ちしております。
Welcome to our homepage.
We sincerely appreciate your visiting our homepage.
Although we are not fluent in English, we will make our best effort for an effective communication with you.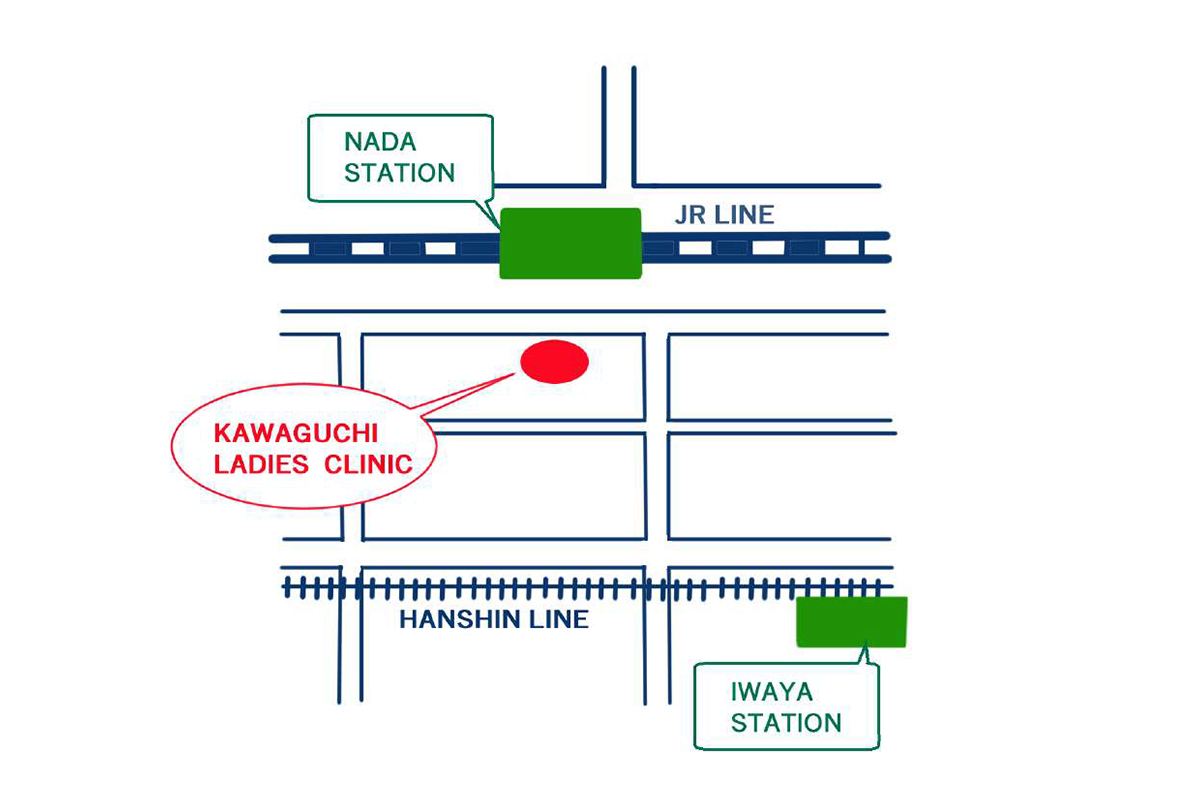 Address: 7-1-30, Iwaya Kitamachi, Nada-ku, Kobe
Phone: 078-881-8208078-881-8208
Our clinic is located on the south side of NADA Station(JR Line)
1~2 minute- walk from NADA station
5 minute- walk from IWAYA Station(Hanshin Line)
Mon
Tue
Wed
Thu
Fri
Sta
Sun
09:30

~12:30

●

●

休

●

●

●

休
16:00

~19:00

●

●

休

●

●

休
休
Closed on: Sunday, Wednesday and Japanese National Holidays
Profile of Keiko Kawaguchi MD. Ph.D.
Graduated from Kobe University School of Medicine
Graduated from Graduate School of Medicine of Kobe University
The Japan Society of Obstetrics and Gynecology Specialist
The Japan Society of Oriental Medicine Specialist
The Japanese Society of Clinical Cytology Specialist
The Japanese Society for Sexually Transmitted Infections
Maternal Health Protection Law Designated Doctor
Hobby: Computer graphics
Please check out my portrait which I have created for your reference. I'm sorry if the drawing looks much younger than my real self!
Gynecological medical check-up (pap test ultrasonography)
Diagnosis and treatments for abnormal bleeding, menstrual irregularity, menstrual cramps, premenstrual syndrom and other gynecological symptoms
Conservative therapy for uterine myoma, endometriosis and other gynecologic diseases
Examination for the pregnant
We are not equipped for delivery in our clinic, however if desired, we can refer you to adequate hospitals
Abortion, miscarriage, excision of condyloma, resection of cervical polyp and other minor surgery
General examination for sterility (hormonal examination, X-ray examination of the salpinx etc.)
Ovulation induction and ovulation monitoring
Hormone replacement therapy
Kanpo (oriental herbal ) medicine
Low-dose pills, intrauterine device
Sexually Transmitted Diseases
Diagnosis and treatment for chlamydia infection, gonorrhea and other sexually transmitted diseases
Urinary infection , urine leak , overactive bladder and other urinary problems
Appointment & Health Insurance
Though an appointment cannot be made for your first visit to our clinic, it is possible from the second and thereafter.
The medical consultation or treatment in any case of sickness is covered by the Japanese Health Insurance Card.
Nevertheless, the following cases are excluded and you will be obliged to pay the full fee:
Normal pregnancy(Regular examination during pregnancy is covered by the Coupon tickets provided by the ward office)
Artificial abortion
Contraception by oral pills or IUD
Regulation of period